The Gemünder Ferienpark Salzberg
Your temporary home
Above the small spa town of Gemünd, in a sunny hillside location with an unobstructed view of the picturesque hills of the Eifel National Park, your cosy holiday home awaits: Welcome to the Gemünder Ferienpark Salzberg. Enjoy a time out full of freedom in the pleasant atmosphere of our fully equipped apartments.
We look forward to sharing our homeland with you soon!
from
€60.00
per night and apartment
from
€70.00
per night and apartment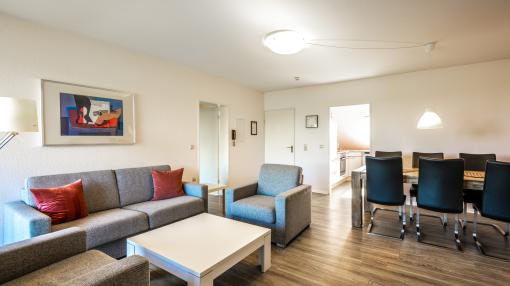 Apartment with two bedrooms
from
€90.00
per night and apartment
Top reasons to spend your holiday at the Ferienpark
So close to nature: You can enjoy an unforgettable stay directly at the Eifel National Park!
A holiday full of freedom: Total independence thanks to the fully equipped holiday apartments with a balcony or terrace
City or active holiday? Both! Hiking and cycling tours in the Eifel National Park, spontaneous city trips to Cologne, Bonn, or Aachen – take your pick!
Time for yourself: Enjoy priceless moments in our wellness and fitness area!
The staff at reception were very friendly, helpful, and efficient. We would happily return again.
This place was in a great location with wonderful views, amazingly helpful staff, and easy access to multiple countries.
- Karen N., Tripadvisor -
These apartments are very well kitted out, clean, and roomy. It is very central to many of the beautiful towns and villages around the Eiffel National Park.
m to the Eifel National Park